Shipping & Delivery
Order Production Times
PaperAffair.com generally ships your personalized items in 2 business days following receipt of your order, if it is submitted before 4:00 PM Eastern Time. The chart below shows expected order vs. shipping dates.
Shipping Chart
Order Received by
4 p.m. ET
Order Shipped
from PaperAffair.com
Monday
Wednesday
Tuesday
Thursday
Wednesday
Monday
Thursday
Monday
Friday
Tuesday
Saturday
Tuesday
Sunday
Tuesday
Please note that production times are extended by a day if a holiday is present during the interval.
Shipping Transit Times
PaperAffair.com
has provided a
FedEx Ground
shipping chart for your review. The chart displays approximate transit times within the United States for an order shipped via
FedEx Ground
from our Aurora, Illinois production facility.
The shipping chart reflects delivery on business days only. Note that FedEx delivers on the following days:
to commercial addresses (Monday thru Friday) - Ground & Expedited Services
to residential addresses (Tuesday thru Saturday) - Ground Service only
to residential addresses (Monday thru Friday) - Expedited Services only
Orders can arrive earlier or later based on FedEx shipping volume or weather delays.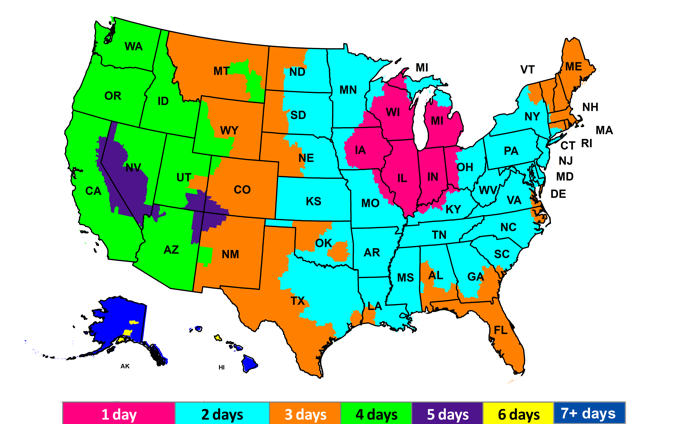 Shipping Costs
Shipping costs are determined by the size and weight of your order, the destination, and the shipping method chosen. Once you have started the checkout process, you will be given a choice to select the shipping method (either FedEx or USPS). The charges for each available shipping method will be shown prior to your final order submittal.